What is the Aadhar Download Password | What is The Password To Open e Aadhaar Card PDF File | How To Find The Password Of My e Aadhar
Do you know that e-aadhar that you download online via UIDAI site is password protected? Yes, it's true, you cannot open the aadhar card pdf file without entering the correct password. UIDAI has done this for privacy concern.
In this article, I will help you to find the password of your Aadhar card in just a few seconds. It's very easy to know your e-aadhar card pdf file password. Even, a normal person can do this without any difficulty. You don't have to pay any fee or amount to get e Aadhar password, it's completely free.
What is Aadhar Card Password
The Aadhar PDF file that you download online through the UIDAI's official site is password protected. And the password is of 8 characters which are must to open the pdf file.
The password of the Aadhar is the combination of the first 4 letters of the name in capital letters and the last 4 character is the birth year (YYYY). Make sure that the name and year of birth that your providing is the same as printed on the Aadhar card. Check out the below examples to understand better.
e- Aadhar Password Examples:
Example 1: Name- Priya Kumari & Birth Year- 1998 Then Password is PRIY1998
Example 2: Name- TIA & Birth Year- 2000 Then Password is TIA2000
Example 3: Name- Abid Khan Year Of Birth- 1996 Then Password is ABID1996
Exapmle 4: Name: MD. Salim Ali & Birth Year- 1876 Then Password is MD.S1876
Example 5: Name- Niti Kumari & Birth Year- 1999 Then Password is NITK1999
How To Open e Aadhar PDF File After Downloading Online
Step 1: First, visit the UIDAI site: https://uidai.gov.in/
Step 2: Go to the "Get Aadhar" section and click on the "Download Aadhar" option.
Step 3: Enter your 12-digit Aadhar Card Number / Enrollment Number / Aadhar Virtual ID Number.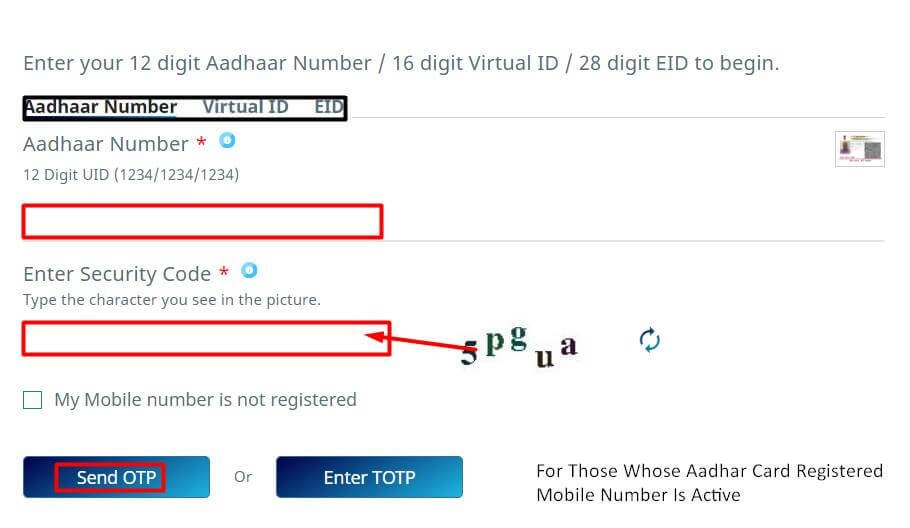 Step 4: Type the captcha code and click on the "Send OTP" option.
Step 5: Enter the OTP received on your Aadhar card mobile number.
Step 6: Finally, click on the "Verify & Download" button.
Step 7: Now, open the downloaded Aadhar card using any PDF viewer app or software.
Step 8: Type the first 4 letters of your name printed in aadhar card and then your year of birth without any gap or space.
Step 9: Hit the "Enter" or "Submit" option to view your e aadhar.
No matter what the downloading method is, the password of the aadhar card is same for all platforms. Whether you download it online or using the mAadhar app, the password always remains the same. The format of password is issued by UIDAI which be found on it's official site.
I hope that you will not face any sort of difficulty in finding your aadhar card letter password. I have given the simplest e Aadhar password format along with some examples. Even if you still facing some problem then do comment down below. But, before commenting, it's better to go through the frequently asked questions given below.
Related Post:
FAQs On Aadhar PDF Letter Password
How can I find my Aadhar card password?
You don't have to search for your aadhar card's password. You already know it if you are the owner of it. In order to open your e aadhar pdf file, you have to enter your name and birth year in the format given by UIDAI.
Why is e Aadhar letter password protected?
UIDAI add the pre-default password to the pdf file whenever you download your aadhar card online and using mAadhar app. This is done for security and privacy purposes so that no other people can get access to your aadhar card and its details.
What to do when the Aadhar PDF File fails to open?
There might be two reasons for not opening your Aadhar card pdf file. The first one may be due to the wrong password and the second one might be because of the corrupted pdf file.
Can I change my Aadhar card password?
Yes, you can the default aadhar card password using any third-party software like Adobe Photoshop, Foxit PDF Reader, etc. or online tool.