UIDAI has launched a new Aadhar PVC Card online order service through which any Aadhar cardholder can apply for a PVC Aadhar Card re-print from home. The cost of this plastic card is kept RS 50 and there is no extra shipping charge.
You can place the PVC Aadhar print order online without aadhar card registered mobile number. It is not compulsory to provide the aadhar linked mobile number, you can give any other active number.
The all-new Aadhar Smart Card comes with many exciting features and is quite durable making it last longer. We will talk about its speciality in details later in this post. In this article, I will explain to you the right way to place an order for a genuine PVC Aadhar card through the official website of UIDAI.
Requirements For Ordering Original Aadhar Smart Card:
Aadhar Card Number/ Virtual ID Number/ Enrollment Number.
Aadhar Card Registered Mobile Number or Any Other Active Number.
Computer/Laptop (Online Method).
mAadhar App (When using a smartphone).
Credit/Debit Cars, UPI or Net Banking For Payment.
Basic Internet Knowledge.
Steps To Order Aadhar PVC Card Online Through UIDAI
Step 1: First, visit this URL: https://residentpvc.uidai.gov.in/order-pvcreprint.php
Step 2: Now, enter your 12-digit Aadhar Card number. You can also enter your Virtual ID or Enrolment number.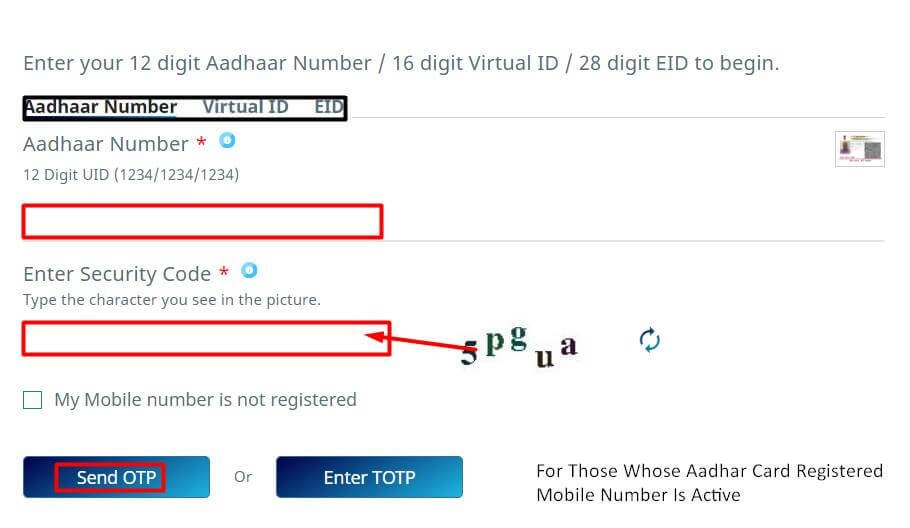 Step 3: Enter the security code given in the image.
Step 4: Click on the "Send OTP" option if your aadhar card mobile number is active for OTP verification.
Step 5: If your aadhar card registered mobile is not active or lost, tick mark the option: "My mobile number is not registered", enter any non-registered number and click on the "Send OTP" option.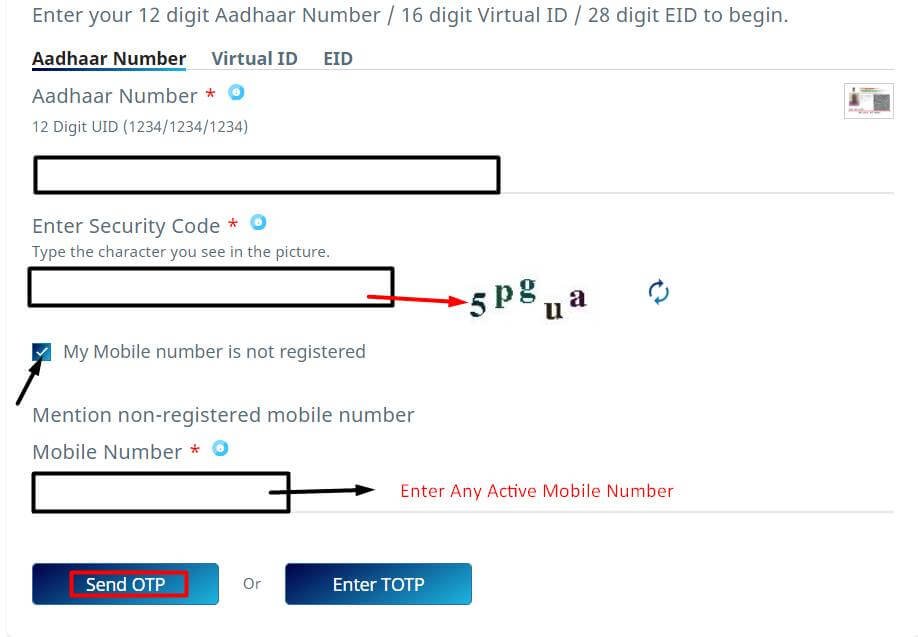 Step 6: You will receive a 6-digit OTP on the number that you provided earlier or the number linked to your aadhar card.
Step 7: Enter the OTP correctly and accept the "Terms & Conditions".
Step 8: Click on the "Submit" button. You will now see the preview version of your Aadhar PVC card if you are ordering through the registered mobile number.
Step 9: Finally, click on the "Make Payment" option and complete the payment of RS 50. The payment methods available are Credit/Debit Card, UPI or Net Banking.
Step 10: After completing the payment successfully, you will see your payment receipt which can be downloaded by clicking on the "Download Payment Receipt" option.
There is no Cash On Delivery (COD) option available during the payment. You have to make the payment online to get the benefit of this Aadhar card PVC print service.
Note that the Aadhar card registered mobile number is not mandatory for Aadhar PVC re-print service. You can use any mobile number. The payment receipt contains an SRN number which can be later used to track your aadhar PVC card order delivery status.
How To Order PVC Aadhar Card On Mobile Via mAadhar App
Launch the Google Chrome web browser on your phone.
Viste the official website of UIDAI.
Switch to the desktop mode.
Click on the "Order Aadhaar PVC Card" option under the "Get Aadhar" section.
Now, all the further steps are the same as explained above for the online method.
Done.
mAadhar app is the official Aadhar card mobile app. However, the Aadhar PVC Card Print service is not live here. We will update here if this service comes live in future on the mAadhar app.
How To Check PVC Aadhar Card Status Via UIDAI Site
Step 1: Visit this Aadhar PVC Card Status Link: https://resident.uidai.gov.in/check-reprint-status
Step 2: Enter the 28-digit Service Request Number (SRN).
Step 3: Enter your 12-digit Aadhaar Number.
Step 4: Complete the "Captcha Verification" by entering the security code given in the image.
Step 5: After typing all the details, click on the "Check Status" option.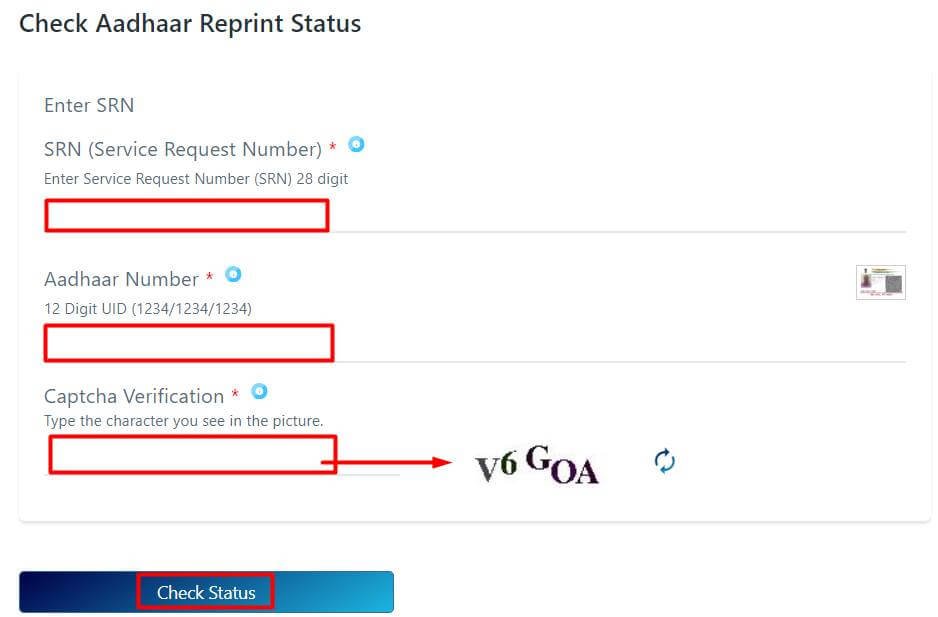 Step 6: Now, you will be taken to another web page where the current status of your PVC card order will be shown on the screen.
This is the only one and the best method for tracking your Aadhar Smart Card Delivery. So, this was the genuine way to place an order for Aadhar PVC Plastic card. I hope that now you will not face any issue while ordering. Do go through the FAQs to clear more doubts.
PVC Aadhar Card Photo

You can clearly see the aadhar smart card photo above. The genuine price and the security features can also been seen printed in the image.
Other e Aadhar Services:
FAQs
What are security features of Aadhar PVC Card?
The brand new UIDAI Aadhar PVC card comes with excellent security features like secure QR code, hologram, guilloche pattern, ghost image and micro text.
What is the Cost Of UIDAI Aadhar PVC Card?
The pricing of the PVC Aadhar card is RS 50 which is inclusive of GST and shipping charges. You don't have to pay any extra charges.
What to do when your PVC Aadhar Card is Not Delivered?
When your Aadhar Smart Card is not delivered to you, it gets return to the main office where it was shipped first. First, track the status online and then contact the Aadhar Customer Care and file a complaint regarding the un-delivery of your reprint order.
How To Track PVC Aadhar Card Delivery Status?
You can easily check the status of your aadhar smart card deliver status online via UIDAI site. All the steps have been explained in this article, kindly read them.
Can I order for PVC Aadhar reprint without registered mobile number?
Yes, it is not necessary to provide your aadhar card registered mobile number. You can give an alternate number to receive OTP for placing the reprint order. However, you will not be able to see the preview version of your aadhar smart card if you place the order with any other number.